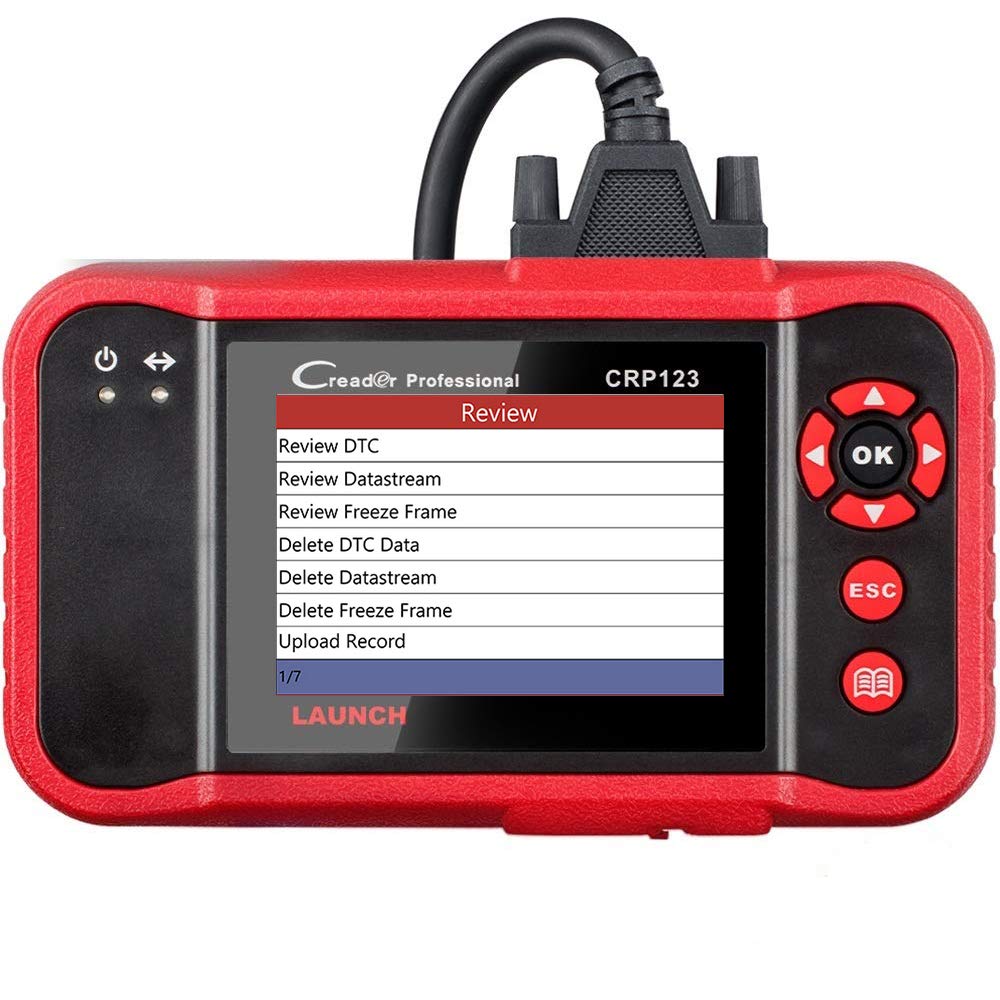 Expired
Launch CRP123 OBD2 Scanner Engine/ABS/SRS/Transmission Automotive Code Reader Diagnostic Scan Tool

BASED ON THE INDUSTRY STANDARD LAUNCH X431, the CRP123 features a 3. 5″ TFT color display and fully supports all 10 modes of OBDII standard to ensure complete, accurate, system diagnosis. CRP123 is the perfect balance of power and affordability, providing the ability to view preset, or user defined, live data streams for ENGINE, AT, ABS and SRS data; the ability to graph, record, replay and print data; an OBDII Code lookup tool and acronym database to assist and speed diagnosis and repair time.

EXTENSIVE VEHICLE COVERAGE; The LAUNCH CRP123 reads data from ENGINE, TRANSMISSION, ABS and SRS systems from Asian, US and European manufacturers. Coverage includes Suzuki, Honda, Mitsubishi, Nissan, Toyota, Mazda, Hyundai, Kia, Subaru, Infiniti, Lexus, Acura, Isuzu, Ford, GM, Chrysler, Benz, BMW, VW, Opel, Volvo, Fiat, Land Rover, Seat, Skoda, Audi, Porsche, Saab, Jaguar and many others.

MAIN FUNCTIONS: The LAUNCH CRP123 reads and clears codes for ENGINE, TRANSMISSION, ABS and SRS systems; Support for Generic OBDII Codes (P0, P2, P3 and U0); manufacturer specific codes (P1, P3 and U1); pending codes; freeze frame data; monitor and I/M readiness; live PCM stream data; graphing functionality for up to four (4) live data streams; O2 sensor test data; clears DTC codes and turns off the MIL; resets monitors; provides Data Link Connector (DLC) location hints.

SPECIAL FUNCTIONS: The LAUNCH CRP123 performs the modules present test; provides support for OBD II Mode 6; retrieves vehicle information (VIN, CIN and CVN). Diagnostic Trouble Code (DTC) help and definitions; all designed to aid the user in diagnosing and remediating issues.

: 100% money back ; lifetime, online, free updates; no questions asked 1-year replacement ; industry leading customer service.